Why You Should Be Eating Tacos in El Paso, Texas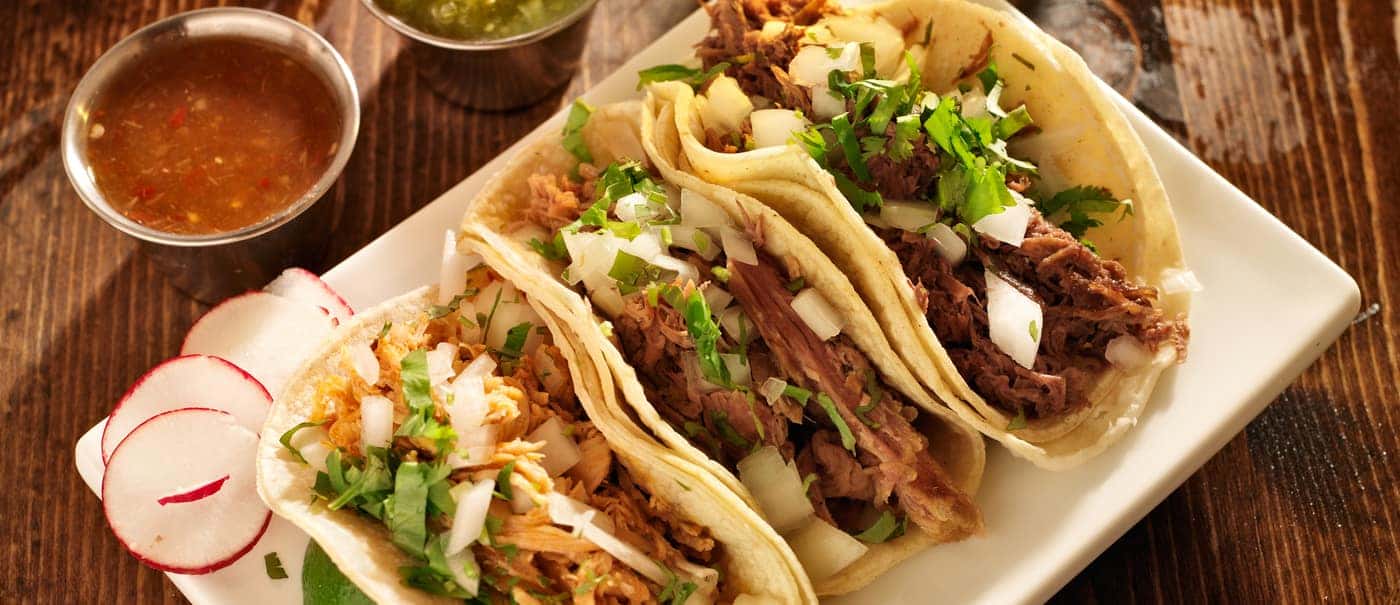 There's a war brewing down in the heart of Texas, and it centers on some of the most cherished Mexican food ever to find its way across the Rio Grande: the taco. It began with a fiery dispute over the home of the breakfast taco – San Antonio and Austin have both laid claim to that particular throne – but there's another city that's awfully proud of its taco bona fides as well. El Paso, Texas may not receive as much publicity as its fellow Texas taco towns, but it boasts some of the best taco varieties in all of the Lone Star State. With all due respect to the Alamo City, there's good reason to call El Paso the true Taco Capital of the United States. So, without further ado, here are a few of the best taco spots that El Chuco has to offer.
Chico's Tacos
Let's be honest here. What list of the best taco spots in El Paso, Texas would be complete without Chico's? The granddaddy of them all, Chico's is a local institution in the Sun City. Founded on July 4, 1953, by local boxing promoter Joe Mora, Chico's has become arguably El Paso's best-known restaurant. In fact, it was even honored by the Texas House of Representatives in 2003 in celebration of the restaurant's 50th anniversary. There's a chain of five Chico's eateries scattered across El Paso these days, but there's no substitute for the original on Alameda Avenue.
Wondering what to try? Chico's offers a variety of ways for El Paso visitors to get their grub on – all of which are delightfully cheap and undeniably tasty – but locals know there's nothing better than the genuine article: tortilla flutes that are generously stuffed with ground beef, drowned in a delicious tomato sauce that almost resembles soup and then topped off with gobs of shredded cheese. It isn't exactly traditional, but it's an essential El Paso experience.
Tacos Chinampa
With authentic Mexican food served in generous portions in a relaxed, family-friendly atmosphere, Tacos Chinampa is one of the most popular taco spots in El Paso. There's a huge variety of real-deal cuisine that features tons of taco- and fajita-based meals, great sides, and a wonderful salsa bar that boasts a little something for everyone. Come in at the right time, and you may even be treated to some live entertainment!
With so many options to choose from, what should you order? There are a bunch of great menu items, but experienced taco heads will surely recommend the iconic taco al pastor. The star of the show is seasoned pork, which is marinated in chile and spices and carefully slow-cooked on a traditional vertical rotisserie called a trompo. The result is an unbelievably tasty, tender, savory taco that's served in packs of six and joined by a half-avocado, grilled onions, radish slices and limes.
El Taquito
The best taquerias tend to be intimate little places that feel more like visiting a friend's home than eating out at an establishment, and this trend certainly holds true for El Taquito. A cozy little place that's short on style but big on substance, El Taquito features some of the best taco tastes in the city. Authentic, flavor-packed options include comida corrida, chipotle flautas, taco al pastor, and much, much more.
What are some of the top picks on the menu? It's hard to go wrong with anything El Taquito offers, but the chipotle flautas are not to be missed. With flautas that are just crispy enough, a savory and creamy sauce with a hint of spice, and some excellent options for salsas and sides, it's one of the best dishes on offer in this standout El Paso taco shop.
El Taco Tote
Every Mexican restaurant in El Paso claims to serve "real" Mexican food, but few spots back up their claim as well as Taco Tote. Originally established in Juárez, Mexico, in 1988 by the Pacifico Heras family, it stands as perhaps the fiercest competitor to Chico's for the attention of taco-obsessed El Paso residents and visitors alike. Just be sure to budget a little extra time before visiting – it's a rare day when El Taco Tote isn't packed full with hungry customers.
Not sure what to order? Blindly point at the menu, and the results are sure to be good, but discerning taco aficionados are all about the adobado pork taco. Tote's answer to the taco al pastor, the adobado pork taco features savory, intensely flavored pork mixed with tatemada – a smoky, charred salsa that lends a unique flavor profile – and a mixture of coarsely chopped green onions and jalapeños. All this is rolled up into light and surprisingly fluffy tortillas that are made fresh in-house.
Let Us Know Your Favorite!
The taco spots above may be among the best in the city, but they're hardly the only ones. From the can't-miss taco de alambre at Sofi's Mexican Restaurant, to the positively overflowing brisket taco at Valentine's Bakery or the undeniably unique crab taco at Kiki's Restaurant, it would take a good many days – not to mention a near-bottomless stomach and a fire-retardant tongue – to try all the purveyors of tasty taco varieties that are worth sampling. With that in mind, quit wasting time and go explore the wide and wild world of the El Paso taco scene! For additional local recommendations, do not hesitate to reach out to Rudolph Honda. We would be more than happy to share tips like our favorite delivery restaurants.
More from Rudolph Honda
Whether you need an extra hand on the website or are on the lookout for a spacious, reliable truck, you'll find all that you need and much more for both work and play around Las Cruces, NM with the 2021 Honda Ridgeline. This loaded Honda truck carries amazing towing power complemented by its features and specifications under…

The 2021 Honda Odyssey continues to update this ever-popular minivan to compete in the modern El Paso market. For most minivan drivers, the interior determines everything, and the Odyssey doesn't disappoint in this regard. Rudolph Honda has gathered information on the 2021 Honda Odyssey interior below! View Odyssey InventoryContact Us 2021 Honda Odyssey Seating and Dimensions Up…

The Honda Accord exterior is an iconic sight on Las Cruces, NM roads. But what does the 2021 Honda Accord interior offer? With a bevy of features sure to enhance your commute, the Honda Accord interior is spacious and functional. Learn more about the 2021 Honda Accord interior with Rudolph Honda and discover how to upgrade your driving…